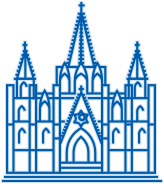 With the aim of improving the organization and mobility of the coaches in Ciutat Vella and to promote the itineraries on the visitors' footpath, creating new and more extensive routes, from November 4, 2014, a new reorganization of the areas of Stop for discretionary coaches on Via Laietana.
---
Stop reservation
Square Antoni Maura (meaning sea - Llobregat) there is 1 available stop places "zonabus" to board or get off buses with authorization. There is need reservation request stop on the web zonabus.cat/reservations Ciutat Vella.
Who can apply?
School groups (until high school), authorized hotels (you must contact with "Gremi d'hotels de Barcelona") and reduced mobility groups.
When should apply?
The period for requesting the stop reservation must be between 7 days and 24 hours before the visit to the Basilica and on working days (reservations for Mondays must be requested before 3 pm of Friday).
How to apply?
Reservations can only be requested through this website, clicking on the button below.
---