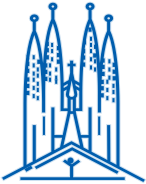 The buses around Sagrada Familia are not allowed as of June 2012, except for those with a stop reservation.
In this map you will find the location of the parking areas and stop nearby, as well as the area of ​​traffic exemption. At the same time, some recommended itineraries have been defined to facilitate pedestrian walking.
As of February 16, 2015, you can check the employment status of the parking areas through this website and in the MUPIs located at Av. Diagonal and to Pl. Gaudí
---
Stop reservation
In front of the Temple in Sardenya Street there are 1 available stop place "zonabus" to board or get off buses with authorization. There is need to have the group entrance's ticket to visit the Temple.
Who can apply?
School groups (until high school) and reduced mobility groups (with the city council authorization). To obtain the permission it is necessary to e-mail the backup code of the group entrance's ticket and documentation proving people with reduced mobility to sagradafamilia.pmr@bcn.cat 
When should apply?
The period to apply for the stop reservation must be in working days between 7 and 24-hour days before the temple's visit ( bookings for Monday are to be ordered before 15.00h the Friday).
Information on occupancy levels
This new service will help you avoid having to drive in circles looking for free spaces in which to park.
How to apply?
Reservations can be requested only through the web, clicking on the button below .
---