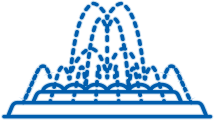 *Until further notice, the Font Màgica show is suspended due to the activation of the drought protocol in the city of Barcelona.
From the 13th of July on, the Magic Fountain's parking and stopping area will only be available during show times through reservations made in advance, because of new regulations.
The parking area will be divided into 3 sectors, each identified by an illuminated panel during the displays:
SECTOR A2: 30 SPACES (AV. FERRER I GUÀRDIA- sea)
SECTOR B1: 3 SPACES (AV RIUS I TAULET- mountain)
SECTOR B2: 30 SPACES (AV. FERRER I GUÀRDIA - mountain)
The basic rules regarding the use of these sectors are specified below:
---
  Parking reservation:
• Valid for one coach only.
• The right to park is granted exclusively for the date and time selected when the reservation was made.
• The right to park is granted exclusively in the sector stated on the voucher (the voucher will include a map of its location). The sectors are signposted by illuminated panels, which switch on a few minutes before the first show and switch off a few minutes after the second.
• Drivers must follow the signposted route to the parking area.
  Who can reserve parking spaces?
• This is a reservation system only for coaches, without any further requirements.
  When should spaces be reserved?
• Parking reservation requests can be made any time from 7 days until 18:00h of the planned date, and on work days.
  Important information:
• Please note that coaches are currently not allowed to park or stop in the area around the Magic Fountain while a show is on, unless they have made a parking reservation in advance. 
• Vouchers must be placed at the front of the coach so that they can be clearly seen.
• No parking or stopping is allowed outside reserved spaces.
• The parking period may not begin or end outside the selected timeslot.
• Instructions from the ZonaBUS supervisory staff must be followed during regulation times around the Magic Fountain.
• Failure to follow any of these rules may lead to fines.
  How are spaces reserved?
• Reservations can only be made from this website, in its Magic Fountain section (special environments) or by clicking on the button below. Once you access the reservation section you will need to choose the desired date and then the timeslot. Reservations can be made for the first show only (€20), the second show only (€20) or both shows (€30).
-Once the payment is made, a proof of the payment made will be automatically sent by e-mail (to the e-mail account associated with the user). If you do not receive it, please check your SPAM folder.
Reservations can only be made from this website, by clicking on the button below:
---
Start reservation process Check the map of the area